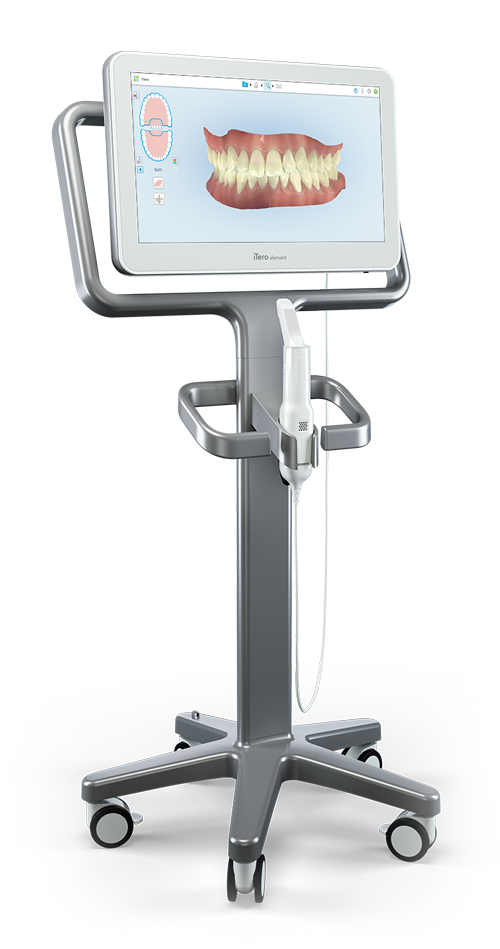 iTero Element Intraoral Scanner
As a preferred Colorado Springs Invisalign provider, the team at Family Dentistry of Colorado Springs offers our patients the type of advanced orthodontic care they need to look and feel their best. As part of our continued commitment to using only the latest and most advanced orthodontic practices, we're excited to announce the addition of the iTero Element Intraoral Scanner to our Colorado Springs Invisalign office.
An advanced piece of dental technology, the iTero scanner will help to further improve our patients Invisalign experience by eliminating the need for impressions and by enabling our Colorado Springs Invisalign dentist to create an even better, more exact fit for our patients' aligners.
When taking traditional dental impressions, a dentist places a putty over the patient's teeth where it's then left to dry. In addition to creating a bit of a mess, the process can also trigger a gag reflex in some patients. This makes taking an impression of a patient's teeth the most uncomfortable part of the entire Invisalign fitting.
Now, thanks to the iTero scanner, Dr. Kazemi can create a highly accurate digital impression of a patient's teeth. When compared to traditional impressions, the iTero scanner offers Dr. Kazemi far greater detail and information to work with when creating a patient's custom Invisalign plan. One study even found that patients were 7xs less likely to experience any problems with their Invisalign aligners when an iTero scanner was used in the creation process.
This incredible accuracy helps to eliminate any chance a patient may need to make another visit to our Colorado Springs Invisalign office to have a second impression taken.
Not only does the iTero digital scanner capture an exceptional image of a patient's teeth, it's also connected to software that assists Dr. Kazemi in creating a patient's custom treatment plan. This sophisticated simulator works to predict the movement of a patient's teeth during each phase of the Invisalign process. By developing an intricate map of a patient's teeth during the treatment process, the iTero scanner can even help to slightly reduce the amount of time a patient will need to wear their aligners.
The use of digital impressions also means the Dr. Kazemi doesn't need to take the time to ship anything to a lab, thereby decreasing the amount of time before a patient can begin their Invisalign treatment.
What makes iTero so exciting, however, is that the scanner gives Dr. Kazemi the ability to provide patients with a glimpse of the difference treatment will make to their smile.
The iTero scanner pairs with the Invisalign Outcome Simulator to provide patients with a visualization of how their teeth will look once their treatment is finished.
Successfully completing Invisalign treatment requires patients to maintain their oral health, take care of their aligners, and remain positive about the process. Getting to see the type of healthier, more attractive-looking smile they will enjoy once their treatment is complete can be all the incentive some patients need to stay on schedule.
Don't wait to get the healthier, better-looking smile you've been wanting. As a preferred Colorado Springs Invisalign provider, Dr. Kazemi can help you finally achieve the smile of your dreams.
Contact our office today to schedule your Invisalign consultation.